Games for You.
Wicked North Games, LLC was created in 2009 with the goal of making fun games that are easy to pick up and play and will draw the attention of gamers for their lifetime.  We focus on staying fresh and deeply rooting the story of players in their characters and how they determine their own fate.
Our line of published products includes Azamar and Westward, and the free digital magazine, d6 Magazine.
Wicked North Games used the proprietary variant of the OpenD6 Open Gaming License (OGL) for creating our original game Azamar, Westward, and all of the d6 Magazine products, based on the popular "D6 System" created in the late 1980's by West End Games, and made popular by them under the Star Wars IP.
We recently started development on Azamar, 2nd Edition, where we are revising and updating the source of the setting, as well as many if not all of the rules and game mechanics. Azamar, 2nd Edition, diverges from its predecessor in using the "D6 System," now using a proprietary system.
Every game we produce is available in digital and printed formats.
Wicked North Games, LLC is made up of two Owning Partners, friends, & long-time Game Makers, Jeremy Streeter and Brett. M. Pisinski.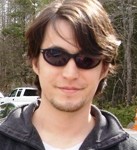 Jeremy Streeter
Jeremy's passion lies in game development, writing, and kaizen: constantly seeking perfection of an RPG game mechanic.  By applying experience and practical knowledge to the process of creating a gaming experience, he seeks the happiness and longest usability possible by players.
He enjoys spending his off time with his wife and three children, playing video games, cycling in the warmer months, and playing board games and table top RPGs with a closely knit group of friends. He started enjoying Role Playing Games, (RPGs) at a young age, beginning with Dungeons & Dragon 1st Edition, Mega Traveller, Star Frontiers, Gamma World, and Car Wars, to name a few.  Jeremy's focus in Game Development revolves around story writing, editing, game mechanics, and conceptualizing new game elements.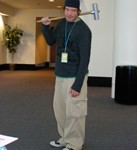 Brett M. Pisinski
The main force that drives Brett is creativity. He works hard to procure leads as a Graphic Designer or dabbling in the art of Homebrewing.  Working in a small business environment for the past twenty years gives Brett the fundamental hands-on experience in management and Salesmanship.
Staying organized is key to Brett. This need for expression has also been a contributing factor when developing worlds, characters, story arcs and plotlines for roleplaying games. As it is with most gamers, the first Role Playing Game he was first exposed to was 2nd Edition Dungeons and Dragons. The intense story for the campaign captivated the group of would-be adventurers for an entire summer. This foundation gave him the basics for character and story design, it wasn't soon until he was developing worlds of his own for other game systems from intense gothic cities to glorious, epic space operas.
Brett's Game Mastering experience gives him the ability to think on his toes and to be prepared for anything, from when faced with a clever group of players to developing an entire universe seeded with danger.  He looks ahead to an exciting future with creating and developing role playing games for years to come.